Arcooda Pinball Arcade software is developed in partnership with FarSight Studios, the makers of the number one video pinball software, The Pinball Arcade. It allows you to play pinball games on a full sized video pinball machine with full backglass and DMD support.
Arcooda Pinball Arcade contains 76 customised video pinball games and is offered as a Pinball Arcade Steam Add-On (cabinet support), a standalone Arcooda Pinball Arcade Software package (add to any Virtual Video Pinball machine), or as a premium software package for Arcooda Video Pinball machine.
Whilst our license for Williams/Bally titles has expired, we have (until sold out) limited quantities available for both the Generic and Arcooda Cabinet software packages. The Arcooda Cabinet version software will only ship with Arcooda Pinball cabinets via www.arcoodapinball.com
PLEASE NOTE:
All versions of Arcooda Pinball Arcade software are STILL AVAILABLE.
If any versions are sold out, we will deactivate the product from sales below.
STEAM CABINET SUPPORT
If you own Pinball Arcade via steam, and would like to have cabinet support on your virtual pinball machine, purchase a key from Arcooda, and then activate on your Pinball Arcade account. Cabinet support will be activated for 76 pinball arcade titles (as long as you own these titles, cabinet support will be available).
Features include;
Note: The Steam cabinet unlock code offers cabinet support for your purchased games in Pinball Arcade, and supports Arcooda Pinball Arcade 76 game Titles. Williams/Bally titles are no longer available to be purchased on Pinball Arcade – if these titles are missing from your Pinball Arcade account, please consider the standalone software.

It does not include any games and Stern tables are not supported.
STANDALONE ARCOODA PINBALL ARCADE SOFTWARE
Have your own Video Pinball? – purchase the standalone generic version Arcooda Pinball Arcade software and we will courier you the software package to install on your machine. Features include;
Note: The Generic cabinet software version will offer the full versions of 76 games including cabinet support for your video pinball. It supports both 2 and 3 monitor screen cabinet versions, but please recheck minimum specs as Windows 7 is required as minimum. We highly recommend Windows 10 so that you can experience Kinect 3D play.

This is an offline product (does not need internet to function), INCLUDES games software + 76 game titles + Kinect add-on. We will TNT/Fedex/DHL express courier the product to your home.

Arcooda Video Pinball Cabinet
Arcooda Cabinet version software offers advanced features and is only suitable for the Arcooda Video pinball machine. We will either install the software into your machine, or, courier to you.
Features include;
Note: The Arcooda cabinet software version is only suitable for Arcooda Pinball cabinets. If you do not own an Arcooda cabinet, please purchase the generic cabinet software.
This software will be installed into your Arcooda Cabinet.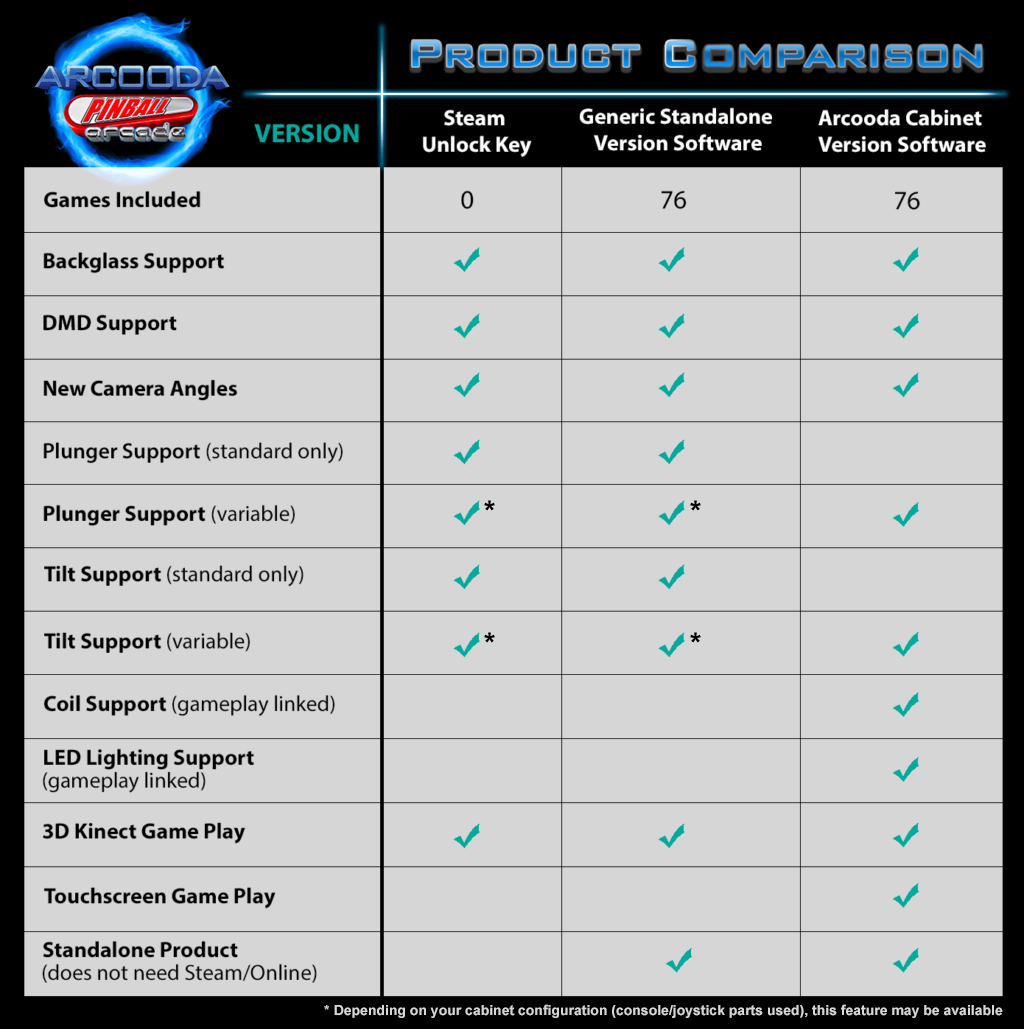 Frequently Asked Questions
Many "home brew" and 3rd party video pinball machines are built differently, unfortunately there is not a "one solution fits all". However, after extensive testing, we believe we have managed to create an easy to install software/cabinet mode solution for Pinball Arcade that matches majority of cabinets. With thanks to the pinball community, there has been a number of 3rd party add-on software that will allow the software to be used on almost any machine.
Cabinet Mode has been built to support (default) vertical monitor pinball game play, with up to 3 monitors (vertical main playfield, horizontal score screen, and horizontal backglass). It is designed for xbox controller key mapping and whilst it supports Windows 7, please use Windows 10 which also adds 3D Kinect gameplay support to all 76 tables.
Please note, the Steam Unlock Key version is only suitable if you already own the Pinball Arcade software titles (76 games) and you must connect your PC to the internet at all times for the key to function and connect to FarSight Studio's servers. The Generic/Arcooda Version Cabinet Software offers you a standalone software package (76 games are included) and you do not need to keep your cabinet connected to the internet.
Before ordering, please check your cabinet specifications carefully and review the FAQ section for further advice.
Arcooda Pinball Arcade includes 76 beautifully rendered pinball tables
Addams Family, The (Gold)
Al's Garage Band Goes On a World Tour
Attack from Mars
Big Shot
Black Hole
Black Knight
Black Knight 2000
Black Rose
Bone Busters Inc.
Bram Stoker's Dracula
Bride of PinBot (The Machine)
Cactus Canyon
Cactus Jack's
Centaur
Centigrade 37
Central Park
Champion Pub, The
Cirqus Voltaire
Class of 1812
Creature from the Black Lagoon
Cue Ball Wizard
Cyclone
Diner
Doctor Who
Doctor Who: Master of Time
Dr. Dude and His Excellent Ray
Earthshaker!
Eight Ball Deluxe
El Dorado
El Dorado: City Of Gold
Elvira and the Party Monsters
F-14 Tomcat
Fireball
Firepower
Fish Tales
Frank Thomas' Big Hurt
FunHouse
Genie
Getaway: High Speed II, The
Gladiators
Goin' Nuts
Gorgar
Haunted House
High Speed
Hurricane
Indianapolis 500
JackBot
Jacks Open
Judge Dredd
Junk Yard
Lights…Camera…Action!
Medieval Madness
Monster Bash
No Fear: Dangerous Sports
No Good Gofers
Party Zone, The
PINBOT
Red & Ted's Road Show
Rescue 911
Safe Cracker
Scared Stiff *
Space Shuttle
Star Trek: The Next Generation
Swords of Fury
Tales of the Arabian Nights
Taxi
Tee'd Off
Terminator 2: Judgment Day
Theatre of Magic
Twilight Zone
TX-Sector
Victory
Whirlwind
White Water
WHO Dunnit
Xenon
* Please Note: A known issue with the Scared Stiff backglass/dmd screen when configured in 2-screen game mode , does not show the dmd, only a black rectangle is displayed.

That is marvelous. You made my day / month year and coming Christmas
With the Arcooda software I almost feel like I'm playing the real thing.
I've set everything up and it looks and plays wonderfully on my 2-screen setup!
Definitely feels more like I am playing a real table now. Even without a cabinet. I really want to build one now.
I just got the key this past Friday and love it. I even believe it plays better and looks way better than the original mode. I love it.
For Arcooda Pinball Arcade, I am thrilled, it looks fantastic. I am very happy with the purchase.
This Arcooda deal is the solution I always wanted. I may reconsider building a cabinet now. I'm stoked.
Vertigo Cabinet – I think its absolutely fantastic and adds a lot to the realism of the machine and I am really ecstatic about it.
it's awesome! Once you set it, it just works. I love the new camera angles, I love how it all fits together ….. because this works so well!
had a quick play on my 2 monitor set up and overall i'm really impressed
Where Arcade Joins Home Gaming
Arcooda designs and manufactures unique arcade gaming products for both home and commercial applications. We work with leading software publishers such as FarSight Studios to develop arcade quality products, but at home gamer prices.
Arcooda Pinball Arcade has been painstakingly recreated from home version PC games into full sized, dynamic and beautifully rendered full sized video pinball tables which can be enjoyed by home users at extremely low prices. Many new innovations have/were being developed, but unfortunately due to the Williams/Bally license change we have been unable to bring all these to the market in their current state. However, we are very pleased to mention that a new look software version will be coming soon and we plan to implement these advances on Gottlieb, Alvin G, and FarSight titles.
Arcooda is part of the Highway Group, with over 30+ years of experience in the Amusement industry. In 2021, Arcooda has planned to release their full range of unique video pinball machines.
Born with a passion for arcade, home gaming will never be the same.
Purchase Arcooda Pinball Arcade Software

Please Order Below
ORDER REVIEW
What you are Ordering

Total:



What you Will Receive
When Will I receive My Order
How I am Paying


We will bill you via our Highway Group merchant account, which is handled by the Commonwealth Bank of Australia.

Unfortunately, they can only process payments in Australian Dollars. If you are not in Australia, we are not able to control your/our bank billing exchange rate/handling fee. This means that for some buyers, the payment billed may not exactly match and maybe few cents or few dollars different.
Bank Payment

Bank: HSBC Hong Kong
Bank Address: 1 Queen's Road, Central, Hong Kong
SWIFT Code: HSBCHKHHHKH
Acc No: 124-253360-838
Beneficiary: Highway Games Pty Ltd

Our Terms
YOUR PURCHASE AND USE OF THE GAME SOFTWARE IS ALSO SUBJECT TO THE TERMS AND CONDITIONS SET FORTH IN THE ARCOODA PINBALL ARCADETM SUBSCRIBER AGREEMENT AND/OR ANY OTHER TERMS SET FORTH BY FARSIGHT IN RELATION TO THE PINBALL ARCADE SERVICE. PLEASE REVIEW THE PRODUCT CAREFULLY, AS NO REFUNDS ARE AVAILABLE.

If you agree to the terms set forth in this agreement, select "I ACCEPT" to purchase the Game Software and to indicate your acceptance of these terms and conditions.

I agree to the above terms